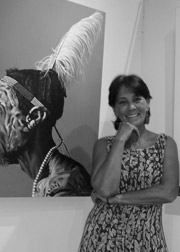 Cathy Chalvignac is a talented artist who was born in Paris, France, in 1954. Her childhood years were spent in Montreal. At age 19 she returned to Paris to study art. She developed her love of ethnicity and culture while traveling Thailand, Sri Lanka, the Maldive Islands, India and Mexico, where she has lived for the past 25 years.
Cathy is an experimental artist and photographer. She works in watercolors, mixed media, furniture design, mirrors, boxes, coconut purses, acrylics and has created murals in private homes. Cathy has an extensive collection of photographs taken during her travels in India, Thailand, Sri Lanka and the Maldive Islands.
Celebrating the magnificence and interconnectedness of all, the life force of her subjects is so intensely mesmerizing that they seem to step off the canvas, inviting you to experience the miracle of life through their eyes.
One can almost hear the tinkling of their symbolic traditional jewelry, revel in the texture of their intricately woven garments, and feel the gentle wind that ruffles their hair. And their moods are contagious! A trio of nomadic women going about their chores exuding contented camaraderie and a mother carrying her child excitement about the day ahead.
A Parisian by birth and a Mexican resident by choice for 25 years now, she spent her formative years in Canada, where she developed a heart connection to Native American Indians. "Their culture, traditions and powerful ancient messages felt suddenly familiar to me, as if I had known about them, inside my soul, for a very long time."
After art school she became passionate about photography, which she put to good use during several years of extensive travel. "These trips were a huge revelation for me, from seeing and meeting the locals to observing their cultures, their humility, and the beauty and light within."
With nothing rigid about her art or the way she thinks, it's no small wonder that it would ultimately be a vibrantly colorful country like Mexico that best resonated with her soul––and to this day she maintains a fascination with the Mayan culture. Painting the ethnic groups she has fallen in love with as authentically as she can, she tries "to capture their inner silence, their humility and wisdom."