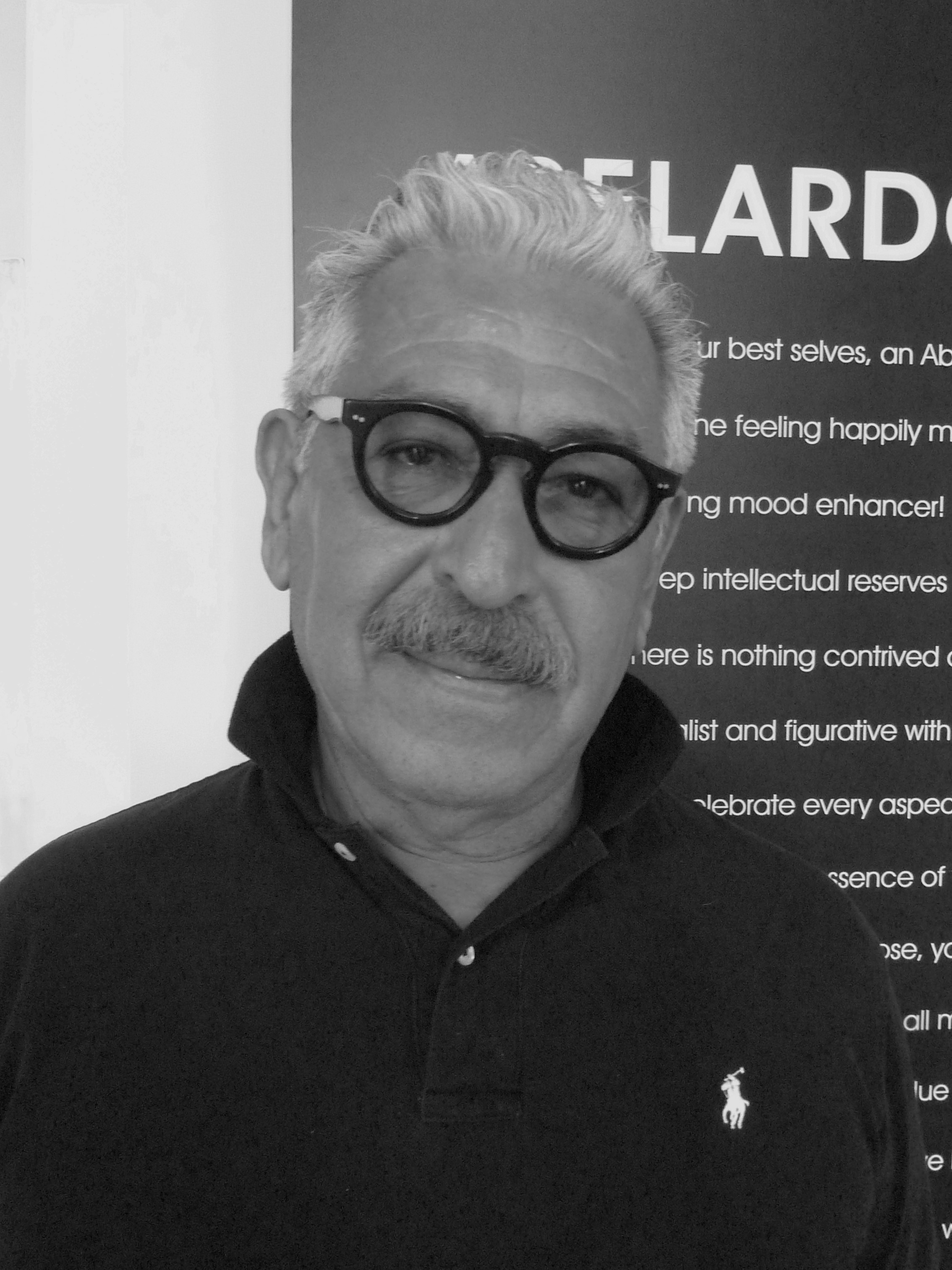 1948 - 2020
FAVELA painted with so much joy, poetry and beauty, it gives one a sense of complete amazement, along with his very subtle sense of humor.
Women dancing in immense ballrooms; sailors in an improbable musical; musicians who carouse rather than suffer the adversities of their trade; Young men of innocent beauty; Young women of natural lasciviousness; beloved objects; furniture, plants, trees, the embracing landscape and the ever present fauna. Always the dogs; noble and sleepy in control of the situation, of any situation. Dogs who are eye-witnesses, companions, complements to human life, pharaohs in their realm of overstuffed beds and imperial thrones. Dogs who come and go; dogs who stay or leave, but never cease to be the measure of our passage through the world.
They are all scenes of joy, plain and simple, lighthearted and carefree, full of charm and self –confidence: joie de vivre in its purest form. These elements – with all their substance and significance – are the essence of ABELARDO FAVELA'S paintings.
A vital, congenial atmosphere emanates from every piece.There is neither turmoil nor distress here, nor any terrible hidden message. Not even the slight melancholy of Gauguin's coastal beings. Here, there is no room for intermediate sensations. Like his palette of colors- primary colors without blending or shades or transparencies- Favela's canvases pay tribute to that fresh outlook which helps us reconcile ourselves with our existence. It is his vision, and he transmits it with contagious delight.
But make no mistake. The colors may be primary, the discourse basic and the outlook fresh _ in fact, these paintings come close to re-creating the innocence of the idyll, the pastoral poem or the still unsullied Garden of Eden. But Abelardo Favela is not innocent, although an initial revision of his thematic and formal approach might suggest he is. I have mentioned that Favela's work has no hidden message. However, there is a discourse that can be read between the lines. It is captivating how he shows us his inner convictions in such an indirect form: mischievous, playful and even naughty. There is a kind of benign subversiveness to it all.
When we evaluate the paintings, one by one or as a group, we discover a true idiosyncrasy and a unique, very personal character. This painter detests complexity and that is what defines his work, from the composition to the thematic content: the circumstances of the characters, both animal and human, the women and their surroundings, their figures…
He was an artist who has an inner innocence, his paintings are big, open luminious work, with an imperceptible unity building one with the other.
They have no nationality, one does not worry about their geographic origin, the women could be Scandinavian "manolas"; the nudes reflect liberty and delirious lightness.
Abelardo Favela was a man of natural wisdom, and with no need to cite Flaubert, he proceeds in that same spirit and communicates his wisdom to us with great passion.
Biography
1948
Born in Mexicali, Mexico
1970
Studied in Guadalajara and Mexico city
1970
Began painting
1970
Tv producer channel 13
1977
General Director educational tv
1982
President group match (advertising agency)
more than 250 commercials produced
1994
Moved to Cuernavaca ,Mexico to paint full time.
Produced over 500 oil paintings and 300 drawings, held in private collections and had 25 individual exhibitions
2019
Passed in Puerto Vallarta, Mexico.
SOLO EXHIBITIONS
1980 Chapultepec Gallery (invited by the Fine Arts Institute) Mexico City
1981 La Pulga Gallery, Mexico City
1982 La Pulga Gallery, Mexico City
1983 Morlet Gallery, Mexico City
1984 Pedagogic University, Mexico City
1988 Status Gallery, Mexico City
1990 Galileo 100 Gallery, Mexico City
1991 Galileo 100 Gallery, Mexico City
1992 Galileo 100 Gallery, Mexico City
1994 Galileo 100 Gallery, Mexico City
1999 Hesch Gallery, Cuernavaca, Morelos
2001 Hesch Gallery , Cuernavaca, Morelos
2004 Fine Arts Gallery, Dallas TX, USA.
2006 Contemporary Art Museum, Jose Luis Cuevas, Mexico City
2008 Corsica Gallery, Puerto Vallarta Jalisco
2011 Contempo Gallery, Puerto Vallarta Jalisco
2012 Contempo Gallery, Puerto Vallarta Jalisco
2013 Contempo Gallery, Puerto Vallarta Jalisco
2014 "Un Pie en la Fantasia y Otro en la Realidad" Contempo Gallery, Puerto Vallarta Jalisco
2014 "Historias de Dia", Capilla del Arte, Puebla, Puebla
2015 Contempo Gallery, Puerto Vallarta, Jalisco
2016 Contempo Gallery, Puerto Vallarta, Jalisco
2017 Contempo Gallery, Puerto Vallarta, Jalisco
2018 Contempo Gallery, Puerto Vallarta, Jalisco
COLLECTIVE EXHIBITIONS:
1985 Mexican Red Cross, Mexico City
1986 Galileo 100 Gallery, Mexico City
2002 Oscar Roman Gallery, Mexico City
2004 "Contemporary ex-votes"
June 2004 ecuador
August 2004 Bolivia
September 2004 colombia
November 2004 El Salvador
January 2005 Jamaica

2005 El Carmen Museum, Mexico City