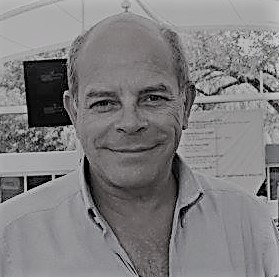 Born in Aguascalientes, Mexico in 1962.
Studied Architecture at the Instituto Tecnologico de Estudios Superiores de Monterrey in 1989.
Studied Art and Culture with the Maestro Benjamin Manzo Hernandez from 1994 - 2002 in Aguascalientes.
Member of the cultural group El Rebujo from 1994-2002 in Aguascalientes.
Teacher at the Universidad Autonoma de Aguascalientes from 1997 to this day.
Member of the Planing Comission for the State Fund for Culture (FECA) CONACULTA for Aguascalientes from 1999 to 2005.
President of the Grupo Amigos de Casa Teràn, from 1999 to 2005 in Aguascalientes.
Director of Museums and Galleries of the State of Aguascalientes.
Organizer of the annual auction of Casa Teran from 1998 to 2010 in Aguascalientes.
ACKNOWLEDGMENTS, AUCTIONS AND PUBLICATIONS
2003, V Auction Casa Teran, Hotel Quinta Real, Aguascalientes, Mexico
Participant in the Series : Aguascalientes and its Artists, University of Aguascalientes, 30th Anniversary.
2002, Selected as one of the 23 best watercolor artists in the world by AVA Publishing Co. London, UK for the book "Still Life in Watercolor"
IV Auction Casa Teran, held at Hotel Quinta Real, Aguascalientes, Mexico
Featured in the magazine Ventana Interior, Año 4, Vol II, No. 17, May 2002, CONACULTA, Mexico City
2001, III Auction Casa Teran held at Casa de la Cultura, Aguascalientes
Featured in the magazine Talleres, Año II, No. Verano, Aguascalientes
Participant in the Auction for TELETON
Judge at the National Cultural Contest, INEGI
2000, Featured in the Annual ICA Calendar
Participant in the II Auction Casa Teran held at the Casa de la Cultura in Aguascalientes
1999, Triple finalist at the National Contest for Watercolor Color, Agua y Papel in Mexico City
I Auction Casa Teran held at Casa de la Cultura in Aguascalientes
1997, Featured in the book " Tauromaquia en Aguascalientes" edited by Foro Taurino, Mexico City
1996 Finalist in the Artist`s Annual Art Competition Contest, USA
Finalist in the National Watercolor Contest " Color, Art and Paper" Mexico City
Participant in the Museum Descubre Auction, Aguascalientes
1994 Participant in the annual Galeria Bon Art auction in Aguascalientes
SOLO EXHIBITIONS
2017 CONGRESS OF THE UNION, Mexico City
2003, Gallery Francisco Diaz de Leon, Casa Teran, ICA, Aguascalientes
Saulsbury Gallery, Temple, TX, USA
2002 Club Campestre, Aguascalientes
2001 Galeria Francisco Diaz de Leon, Casa Teràn, ICA Aguascalientes
1998 Galeria CABA, Ajijic, Jalisco
1997 Casa Borda, Instituto de la Cultura, Taxco, Guerrero
Galeria del Centro Cultural Los Arquitos, ICA, Aguascalientes, Mèxico
1995 VII Semana Cultural Universidad Bonaterra, Palacio Municipal, Aguascalientes, Mexico
COLLECTIVE EXHIBITIONS
2017, Galeria Contempo, Puerto Vallarta, Mexico
2009, EXPRESIONES, Semana Cultural Taurina, Hotel Francia, Aguascalientes, Mexico
2006, 6 Artistas 6-6 Disciplinas, Galeria Casa de los Artistas, Aguascalientes, Mexico
2002, ENTREVER DE DIEZ, Palacio Municipal, Aguascalientes, Mexico
Galeria La Casa Azul del Arte, Aguascalientes, Mexico
Presser Gallery, UMBH University, Belton, TX, USA
2000, Sauklsbury Gallery, Cultural Activity Center, City of Temple, AZ, USA
REFLEJOS DEL ALMA, Palacio Munici´pal, Aguascalientes, Mexico
1999, Galeria La Valentina, Dallas, TX, USA
1998, Galeria CABA, Ajijic, Jalisco, Mexico
Galeria Bazart, Aguascalientes, Mexico
Hotel Fiesta Americana, Feria Nacional de San Marcos, Aguascalientes, Mexico
Los Maestros en el Arte, Universidad Autonoma de Aguascalientes, Mexico
II Congreso Mundial de Ciudades Taurinas, Aguascalientes, Mexico
1996, Galeria L´Ateleier, Aguascalientes, Mexico
Galeria CABA, Ajijic, Jalisco, Mexico
Muestra Estatal de Artes Plasticas, Galeria de la Ciudad, Aguascalientes, Mexico
1995, VI salon del Petit Format, Monterrey, Nuevo Leon, Mexico
Galeria Los Toldos, Monterrey, Nuevo Leon, Mexico
Galeria Marchant, Torreon, Coahuila, Mexico
Congreso Nacional de Arquitectos, Aguascalientes, Mexico
1994, V Salón del Petit Format, Monterrey, Nuevo Leon, Mexico
Galeria Los Toldos, Monterrey, Nuevo Leon, Mexico
Galeria Marchant, Torreon, Coahuila, Mexico
Congreso Nacional de Arquitectos, Aguascalientes, Mexico
1993, IV Salon del Petit Format, Monterrey, Nuevo Leon, Mexico
Galeria Los Toldos, Monterrey, Nuevo Leon, Mexico
Galeria Marchant, Torreon, Coahuila, Mexico
Galeria Bon Art, Aguascalientes, Mexico
1992, Galeria Bon Art, Aguascalientes, Mexico
1991, Galeria El Jaguar Despertado, Viñllahermosa, Tabasco, Mexico
1990, Galeria del Instituto de Cultura de Tabasco, Villahermosa, Tabasco, Mexico
Muestra y Encuentro de Artistas Plasticos de la Frontera Sur