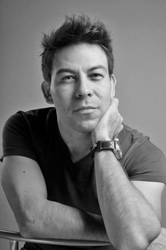 During his life, Lopez Vazquez has studied several expressional techniques using alternatively pencil drawings, acrylic ink on paper,wood and canvas. At present, the representational technique mostly used by Lopez Vazquez is monotyping and hand-painted acrylic and pastels on canvas on natural cotton paper and canvas. This method gives a more modern touch to a type of artworks that already are known for fresh and contemporary contents.
Miguel Lopez Vazquez projects his curiosity and inquietude towards the human being and the variables that determine personal traits; he organizes a balance of harmony, dimension, proportion, combination, volume and color; and has a gift of knowing what, where and how.
When you witness one of Lopez Vazquez's paintings and take into consideration his creative formation in design, interiorism and visual merchandising, you are seduced by his use of color and luminosity.
Reminiscence that fade but never disappear. Recollections that might seem very mundane, but at the end of the day, are the ones that have more permanence.
Such is the emotion of his art, like brushstrokes on the patina of our emotions.
Art is something that can elicit a single thought or feeling, such as simplicity or strenght, love or pain, and the composition simply flows from the hand of the artist. Lopez Vazquez is free to express himself in different mediums and color schemes, using any number of methods to convey his message. No artist ever has to explain why they did something a certain way other than that this is what they felt would best portray the feeling, emotion or message.

Collective Exhibitions
1993 Olvidando
Casa de la Cultura, León Guanajuato
1995 Claro Obscuro
Club de raqueta Britania, León Guanajuato
1998 Silencios
Rectoría Universidad de la salle, León Guanajuato
2003 Convergencia Visual
Casa de las Ranas, Guanajuato Capital
2005 Alma Azul
Galería Lucita Aguilera, Hermosillo Sonora
2007 Blanco y Negro
Galería 10/10, Ciudad de México
2010 Coincidencias
Galería Sol y Luna, Ciudad de México
2012 10 Arquitectos Apertura
Casa 10, León Guanajuato
Solo Exhibitions:
1998 Tierra y Mujer…
Galería central UBAC, León Guanajuato
2006 Estadía
Galería Torre del reloj, Ciudad de México
2007 Memoria
Galerías Cuernavaca, Cuernavaca Morelos
2007 Pensamiento
Galerías Coapa, Ciudad de México
2008 Complicidad
Espacio cultural LANCAO, Ciudad de México
2010 Punto y aparte
Gabinete Corredor Cultural Roma-Condesa, Ciudad de México
2012 FLU yendo
Galería Torre del reloj, Ciudad de México
2013 Con los ojos cerrados… pero el corazón abierto
Museo Casa Diego Rivera, Guanajuato Capital
2013 Milagros
El Jardín de los milagros, Guanajuato Capital
2015, Dialogos, Galeria Contempo, Puerto Vallarta, Jal.
2016 Galeria Contempo, Puerto Vallarta, Jal.